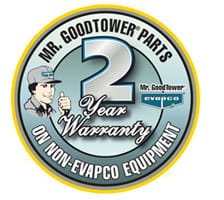 Cooling Tower and Chiller Parts
Bullock, Logan & Associates, Inc. is proud to be an authorized Mr. GoodTower® Center for Evapco, Inc. We carry many different types of evaporative cooling equipment, including cooler and chiller parts to give your systems what they need to last for many years. Rather than replacing an entire system, you can benefit from a completely restored cooler or chiller with effective replacement parts. We can also provide cooling tower repair solutions.
We can provide you with trustworthy cooling tower parts from any manufacturer, including:
Evapco – the world leader in providing solutions for heat transfer application

Marley – a leading global manufacturer of cooling towers

BAC – renowned manufacturer of Eurovent certified cooling towers

Imeco – another reputable name in the cooling tower industry

Spectrum – a company that specializes in cooling tower systems

Smardt Chillers and Cooling Machinery
With FULL FACTORY WARRANTY!
Fans
Fans are a vital cooling tower part. Their role is to push air through the cooling tower, and you can find them in counterflow, crossflow, and induced or forced draft cooling towers. Over time they can wear off due to elements and constant use. In our offer, you can find the fans of the highest quality able to withstand corrosive effects.
Driveshafts
Driveshafts play an essential role in a cooling tower. They are the intermediary between the motor's output shaft and the gear reducer's input shaft. Since they operate in a harsh environment, the corrosion can cause structural damage and render them unable to transmit power from the motor to the gear reducer.
Siding Panels
Siding panels protect the cooling tower system for unmatched and long-lasting performance. The elements can cause structural damage to siding panels exposing the delicate cooling system to corrosion. The siding panels in our offer will help you equip your cooling tower and provide it with outstanding resistance to weathering, and prevent corrosion in extremely corrosive environments.
Fill & Drift Eliminators
Among all evaporative cooling equipment and cooling tower parts, fill media is perhaps the most important one. Fill media is made from plastic films. The efficiency of the evaporative cooling process depends on the surface area, which a fill media maximizes to enhance cooling. The fill media takes water and distributes it evenly into the thin film to promote extra heat evaporation. Whether you need a film type fill media or splash type fill media, Bullock Logan & Associates will help you choose the right one for your cooling tower system.
Drift eliminators help improve the efficiency of the cooling tower system by removing droplets of water from the air. When working properly, they can rapidly change the direction of air, thus minimizing the loss of water in the system. If your systems are losing water, you might need to replace drift eliminators, and we can help you find a replacement part of the highest quality.
Hot Water Distributions Basins
A cooling tower performance and its efficiency depend on the quality of water coverage over the heat transfer media. If your hot water distribution basin is not working properly, you will need to replace it. The trouble is that it includes many parts ranging from support saddles and header tie-downs to adapters and nozzles. Having proper water treatment is imperative to a proper system.
In our efforts to become a number one source of cooling tower parts, we offer complete basins packages for counterflow cooling towers, whether they are factory assembled or field erected.
Inner Fan Cowling
Inner fan cowling's primary role is to protect the fan from objects, debris, animals and to protect workers from getting injured. Since it is exposed to a large amount of air and elements, inner fan cowlings are often the first thing to corrode. Bullock Logan & Associates aftermarket cooling tower parts offer now include inner fan cowling. Our listing includes heavy-duty inner fan cowlings in a wide range of diameters. 
HDG Torque Tubes and Mechanical Equipment Support Pipes
Even if you need to replace something as big as a torque tube or cross over pipes, or you need a sturdy motor and gear mount, we can help you get high-quality Hot Dipped Galvanized steel cooling tower parts. 
Choose from Many Chiller Parts for Your Facility
To find the part you need, click on the picture of your cooling tower, fluid cooler or evaporative condenser. We're ready to give you everything you need to make your cooling and chilling systems last. If you believe you need more than replacement chiller parts to improve your systems, we also offer rebuilding and repair services to help keep your units running the way they should. Regardless of what you need for your cooling and chilling systems, we can provide it.
Replacement Parts Quote Request
---
Cooling Towers
---
Coolers & Condensers