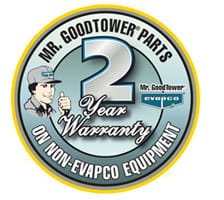 Cooling Tower and Chiller Parts
Bullock, Logan & Associates, Inc. is proud to be an authorized Mr. GoodTower® Center for Evapco, Inc. We carry many different types of cooler and chiller parts to give your systems what they need to last for many years. Rather than replacing an entire system, you can benefit from a completely restored cooler or chiller with effective replacement parts.
WE CAN PROVIDE ANY PART, ANY MANUFACTURER, ANY TIME!
Evapco, Marley, BAC, Imeco, Spectrum, Binks, Recold, Etc.
WITH FULL FACTORY WARRANTY!
Choose from Many Chiller Parts for Your Facility
To find the part you need, click on the picture of your cooling tower, fluid cooler or evaporative condenser. We're ready to give you everything you need to make your cooling and chilling systems last. If you believe you need more than replacement chiller parts to improve your systems, we also offer rebuilding and repair services to help keep your units running the way they should. Regardless of what you need for your cooling and chilling systems, we can provide it.
Replacement Parts Quote Request
---
Cooling Towers
---
Coolers & Condensers