Cooling Towers Factory Assembled
Evapco – Induced draft and forced draft type cooling towers from 15 to 4400 tons.
Coolers & Condensers Evaporative
Evapco – Centrifrugal and axial fan type coolers and condensers from 30 to 3700 GPM.
Adiabatic/Dry Coolers
Evapco – The eco-Air Series of Closed Circuit Coolers provide 100 percent dry or adiabatic heat rejection with unparalleled flexibility.
Thermal Ice Storage Systems
Evapco – Thermal ice storage provides many environmentally-friendly opportunities that are a result of reduced peak electrical demand. Ice storage shifts power demand to low-cost periods thereby reducing energy costs.
Cooling Towers Field Erected
Evaptech – Custom erected fiberglass, wood, and masonry construction from 1,000 to 30,000 tons.
---

Evapco-Pulse Pure – Chemical free, environmentally responsible, treatment for cooling towers.
---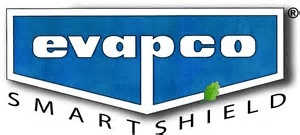 Solid Chemical Water Treatment System
Evapco Smart Shield – Easy, Safe, Reliable, Sustainable Innovative Solid Chemistry Water Treatment System.
---

Polaris – Stainless steel plate and frame heat exchangers from 15 – 7000 GPM
---

Heat Exchangers Shell & Tube
High-K – Straight tube, close approach, heat exchanger for cooling tower & dirty water duty.
---

USA Coil & Air – Hot water, chilled water, DX and steam coil available in 5 and 10 day shipments.
USA Coil & Air – Stock and custom units sizes from 200 to 45,000 CFM.
USA Coil & Air – 15 sizes of DX liquid coolers from 5 to 250 tons & 19 sizes from 5 to 400 tons Condensers – A33 in stock.
---

Water Filtration/Centrifrugal Separator
SBS – Corporation Centrifrugal separation cooling tower water cleaning package.
---

Smardt – Oil free magnetic bearing centrifugal water, air cooled packaged and condenserless chillers.
---